---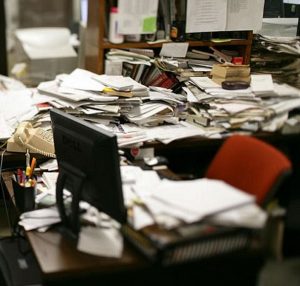 Do you see the problem in the picture?
The picture shows only half of the problem: the paper portion of the files. The other half of the problem is invisible and consists of electronic files.
As the number of files increases and as the number of people using them increases, it becomes a big problem to manage them. The result is time and money wasted trying to store files, to locate them, to secure them, to control them, or to make sure they don't get lost or get deteriorated over time.
The best way to manage files, and to save a lot of time and money, is to use a good document management system, along with properly designed processes.
---

What is OpenKM?
OpenKM is a low-priced and functionality-packed computer software that fits many different categories like Document Management System (DMS), Records Management System (RMS), Enterprise Content Management (ECM), and so on. Bottom line: it helps people in organizing their computer (electronic) and physical files (paper) so that these can be easily found and accessed by only authorized people.
OpenKM has become very popular in the recent years. Here's some recent data about OpenKM:
More than 30,000 installations worldwide assets.
A monthly average of 7,000 downloads of the Community version.
Translated into 39 languages.
More than 20,000 members of the community.
30 partners in the development of the application.
Partners in all continents.
---
How is OpenKM different than a computer file system like the Windows Explorer?
Actually on the surface, visually, they look the same, and they do similar things, like storing files, copying them, moving them around, etc. But that's where similarities end. Here are just a couple differences: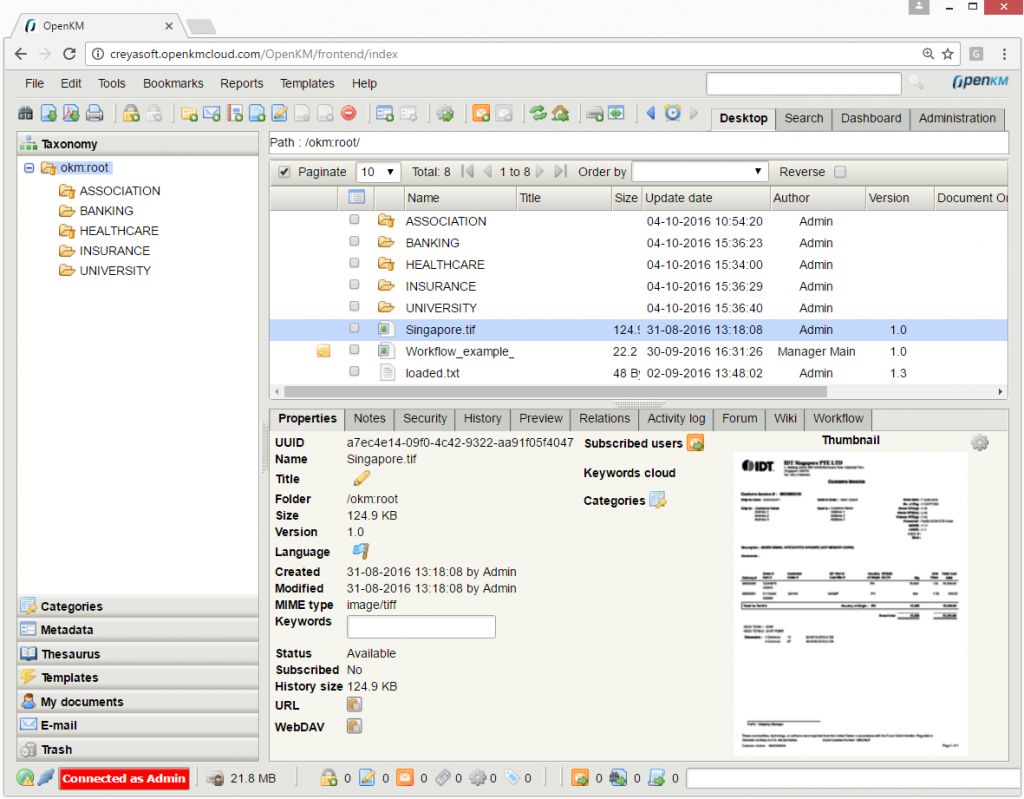 OpenKM provides many ways to organize files by allowing you to add keywords, categories, and metadata (just a fancy term meaning additional data about each file) to files. With these features your computer becomes like an internal Google search engine: you or your coworkers can type a few words and OpenKM will instantaneously locate the file being searched for.
OpenKM also allows you to lock files when you don't want anyone to change it, and release the lock when done. It can automatically allow you to create different versions of files without having you worry about keeping different versions with different file names.
The best feature (but not the last) is that OpenKM comes with a workflow engine which allows you to design routes that a document must follow within your company. For example, suppose your company decides that all proposals exceeding a certain amount must follow a specific route before being sent to the concerned client. Let's suppose that first, the three member proposal team will create the proposal by sending it back and forth amongst them, and keeping versions of their progress within OpenKM. Then once done with the final version, the proposal will be send to the manager responsible for approving proposals. The manager can either approve or return the proposal for further work. When the manager is satisfied, the proposal can be forwarded to the legal department to check legal terms and details. Only when a proposal goes through all the required steps, it can then be sent to the client. The workflow engine will keep track of all the steps that were carried out by the various people, will time stamp each step, and will ensure that all steps were followed.
---
Who is OpenKM for?
For anyone or any group of people who daily deal with a lot of files, whether electronic (computer based) or physical files (paper based). "Deal with a lot of files" means creating files, passing them to coworkers, adding notes to them, mailing or emailing them, storing them, locating them etc. Electronics files consist of any files that you store on your computer like Word or Excel documents, Powerpoint presentations, emails, pictures, movies, scanned document images, PDF files, engineering drawings, contracts, anything. For paper based files, OpenKM can either store the scanned images or just information about them, like for example where the files physically stored along with other information them like titles, author, dates, or any information needed by which to later search.
---
When is OpenKM needed?
When the number of files being used increases so much that it's hard to keep track of them or to find them, and in addition when the number of people who use these files increases, then OpenKM will be needed.
---
How can you get involved?
You can either adopt OpenKM as a user to reap all its benefits and become a hero in your company, or you can become our partner to help your clients adopt it and become their hero. You can even become a developer by downloading all the code for OpenKM. Either way, you will love OpenKM. We made it easy for anyone to get started by providing different versions of OpenKM, ranging from the totally free community version to the paid professional version.
---
How can we help?
We at Creyasoft have been using OpenKM internally and for client projects for many years. We know all the ins and outs of the system. We have become a Strategic Partner with OpenKM to serve the Middle East and North Africa (MENA) region.
Our role is to first help you decide if OpenKM is right for you. Then, we provide all the help needed to make OpenKM a success: We help you install it, convert from an existing system, train your personnel, develop additional modules if needed, and provide on-going support through the OpenKM Worldwide Support Center.
---
How can you contact us?
To contact us please click on the following button or call us during business hours in Beirut, Lebanon, at: +961.1.565.225